Lean-To Conservatories
Our lean-to conservatories are designed to flood your home with natural light thanks to their large glazing areas.
SureFix Home Improvements create and install lean-to conservatories in Waterlooville and Portsmouth and the surrounding area. A conservatory is a perfect way to add an airy and bright space to your home and there's no better place for it than a lean-to conservatory from SureFix.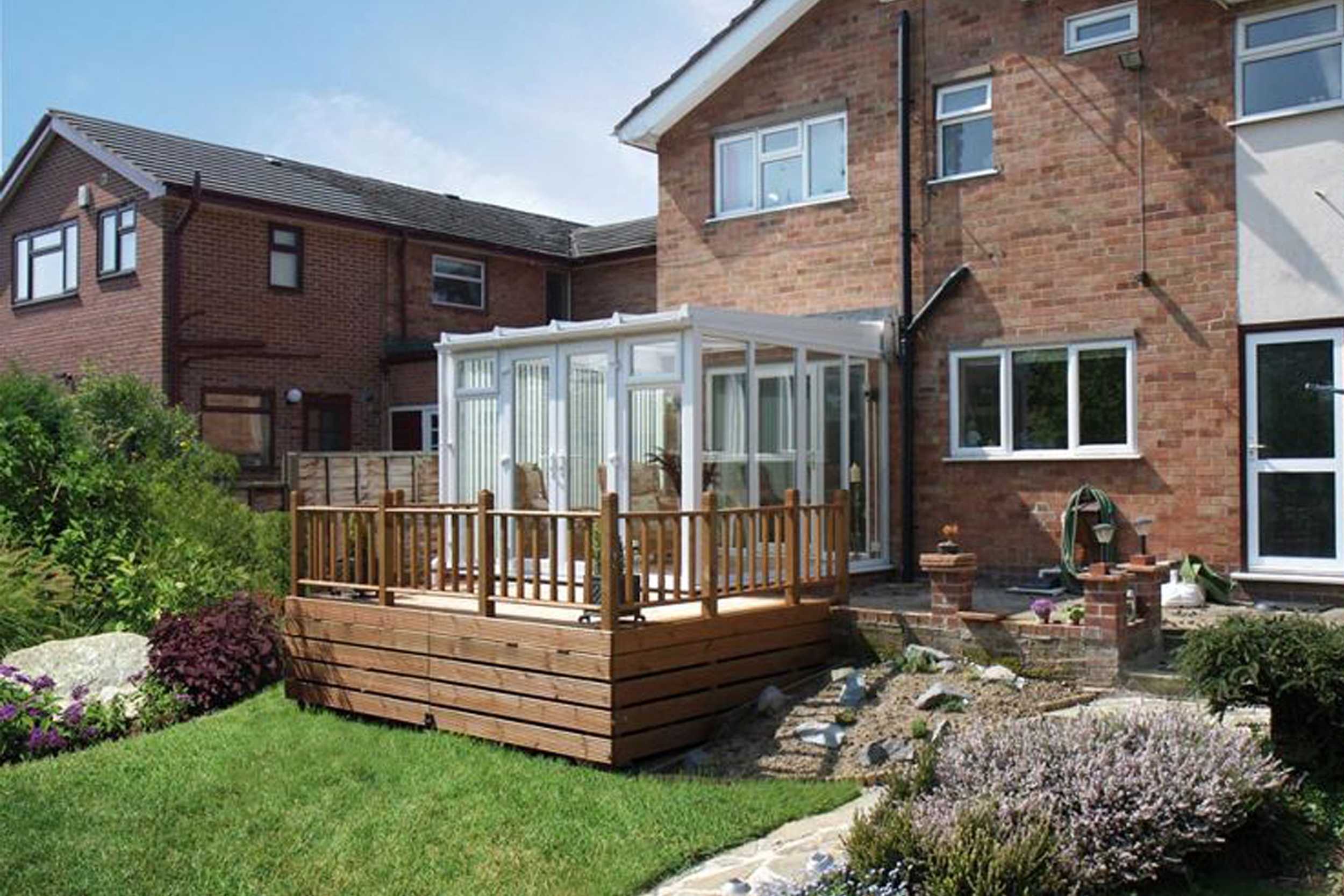 Also known as a Mediterranean conservatory, our lean-to conservatories are designed so that you can enjoy stunning views of your garden from the comfort of your home.
Perfect for even the most awkward spaces, the low pitched roof of this style of conservatory makes it incredibly easy to install. Not only that, our lean-to conservatories are extremely adaptable to any style of home with their simple design and slim sightlines
It has never been easier to create your happy place with a lean-to conservatory from SureFix.
We cannot begin to say how happy we are with our experience of SureFix during the planning, construction and completion of our new Double Glazing and Orangery.
The SureFix team were very courteous and polite throughout the build, giving us advice, guidance and just making the building process stress free.
A special thankyou to Ashley –  whose quality of workmanship and brickwork was exceptional.
We would not hesitate in having SureFix again for any future home improvements.
We therefore highly recommend SureFix.
I have used SureFix in a previous home. About 3 months age they fitted a new front door. We were very pleased so once the finances were on place we had the rest of the house done. 7 windows new patio doors and the glass replaced in a newer window. We are delighted with everything. The price. The time from 1st visit. The advice during choosing our windows. When the fitters came they were on time, polite, respectful of our home and keen and tidy
Please thank Colin- He has done a wonderful job, he is very kind and helpful, cleared up the balcony and was absolutely perfect.
We are really pleased with the quality of the new patio door and replacement window in bedroom which had a broken seal. The two young men who did the work were extremely pleasant and made a lovely neat and tidy job of everything. Would recommend Surefix.
Colin has just been and done a fantastic job. He has managed to make some adjustments to the frame and fit parts I already have and the window now locks…….Yippee! Many thanks for your help and flexibility!
Highly recommended. They did my porch and the work was excellent. The boss came to check they had cleaned up properly and to ask if we were satisfied. We are now having them build our conservatory and are delighted with the results. Great work, great team. Nothing too much for them. I cannot praise them highly enough.
SureFix were very competitively priced. Yet are a long established trust worthy company. Once the date was arranged, they were punctual, very polite and respectful if my home. The door was fitted with no fuss and the area of work left clean.
Highly recommend SureFix. Had new windows and doors last year and just had a New conservatory built and can't fault the workmanship. Clean, tidy and informative. Wouldn't hesitate in recommending SureFix to anyone, Keep up the good work!
Joe – thank you for the window. I just wanted to say how lovely the young man that fitted it was.  He was very pleasant and diligent.
I have spoken to the Tenant (P*******) and they have said that SureFix did a great job and the guys were 'lovely'
James & Joe what lovely guys and they have done a great job, they were so helpful and explained what and how they were going to do the work. Even the neighbours have commented on what a marvellous job they have done
Prompt reply to my query and friendly and professional staff.
Colin is a great workman clean tidy friendly polite terrific guy.
Had my porch replaced on Oct 9th 2023 .. very good job .. very pleased
We just wanted to thank you for the work that you did for us last week. At every stage we were kept informed of progress, did not have to wait long for the work to be completed, and every single member of staff who we had contact with was polite and courteous. A very efficiently run company with excellent staff, and Colin, who fitted our window, was the nicest, most helpful man you could wish to meet.
Thank you for a great job done at a very fair price – we couldn't be more pleased
Many thanks to Dave & Darren who fitted replacements windows to the upstairs of our property yesterday. Exemplary workmanship, professional and courteous – five star service. Would highly recommend, and we will be using Surefix again when we start our extension. Great work guys.
Fantastic company. The SureFix team worked really hard to give us exactly what we wanted when we had our porch built, with two composite doors. The site was as clean and tidy as possible at the end of each day. When we ran into problems during the build the Company made sure we knew exactly what was going on, and came up with a solution with no fuss. Communication is excellent – it doesn't matter who you talk to in the office, everyone seems to know exactly what us going on with your build, throughout the entire process. The best bit: no surprise costs or hidden extras. Thank you to everyone, both on site and in the office.
SureFix offered a fantastic service, they went above and beyond what we ask for. Kept in contact the whole time with really quick responses. Really friendly and was careful our dog was safe during the work as it was such a big job. Will most definitely recommend.
Great performance by Colin. As usual, SureFix is unequivocally recommended – 5 stars.
My tenant sent me a message to say that the fitter was really polite and left no mess behind. He also popped back with my key. So really appreciate his work and please pass on my thanks to him (Darren)
James was on time, clean and tidy and left everything tidy. So happy with the work and job done. Thank you.
I had a really good experience with SureFix, from the salesman who listened to what I wanted to the fitter who took a lot of care. I'm very pleased with the final result.
SureFix came to sort out our door that had become stiff and wouldn't unlock. They were so friendly and helpful and had it done quickly and professionally. I cannot recommend them highly enough. Thank you SureFix!
I have used SureFix before. This time I had moved house and changed windows, doors and added a porch. SureFix were on time, quick, worked around other work that was being done, were flexible (e.g. Left hole for a cat flap) and tidied up after each day. The guys were very friendly, nice to the children and pets and a pleasure to be around. The job was well done and I would fully recommend them.
Darren and Dave did a fantastic job.
Rang in and wanting us to thank Colin so much for the job he did on Monday, he has done a fantastic job and especially with the recent weather -no leaks.
Darren was an excellent worker, kept me informed throughout the whole process and worked very steadily all day. Cleaned up existing soffits and tidied up and disposed of all the old guttering and downpipes. Would thoroughly recommend Surefix to do an excellent job with a value for money price. Even got a 10% Senior Citizens discount!
We started using SureFix in about 2014 (the company having been recommended by a friend) when we had problems with an existing external door. At the time, when an inspection showed that the door had to be replaced, we were so impressed by the service that we decided to continue using SureFix for any future door and window replacements and repairs. Since then, we have had new external doors fitted on our front porch, new internal doors fitted to the back porch and conservatory, and, most recently, some of the existing conservatory windows replaced when they became 'fogged' – a problem that could and should have been avoided when the conservatory was originally built – as your fitter (Colin) showed me that the original windows had been incorrectly fitted. We have never had any problems with SureFix, as the staff have always been polite and knowledgeable, and we have always been kept up-to-date with the progress of our orders. I would wholeheartedly recommend SureFix to anyone.
I must congratulate you on employing Colin he was marvellous, very helpful and I'm thrilled to bits with him.
Scott from SureFix came and repaired my front door and french doors. Punctual and very polite and professional, can highly recommend this company.
Excellent service from original visit for preparing the quote to delivery date to installation, quality of products installed and friendliness and politeness of the installers Darren and Harry
Job completed today and all looks very good; guys did a great job and worked really hard in the heat! -Dave & Henry
We've used this excellent local company before on our son's recommendation. The team of two arrived on time and carried out an excellent installation, were very considerate of our situation (I suffer from MS) and finished the installation when we expected them to. The new window looks very well, is well designed using up to date design features and now looks as if it has been in situ for months. Our only disappointment was that we were obliged to call the firm to get the team back to clear up the mess they left. They came back the next day and did an excellent job, leaving an immaculate site.
Rang in to say a big Thank You for sending Colin to sort out the handle of her door -She is more than happy.
Dave, Darren & Henry
What a lovely team of guys. Great job they did.
Extremely pleased with our new doors, the whole process from start to finish was seamless. The fitters were brilliant left everything clean and tidy. Everyone in the showroom is helpful and friendly. All in all, a great company to deal with thank you all so much.
Please thank Dave and Darren for a brilliant job done, our house now looks really great, and sorry they had to put up with the lousy weather!
Excellent work from start to finish. Courteous at all times. I would defiantly use this company again
SureFix were very competitively priced. Yet are a long established trust worthy company. Once the date was arranged, they were punctual, very polite and respectful if my home. The door was fitted with no fuss and the area of work left clean.
I have left a deserved positive review and paid the outstanding balance for the work yesterday.
I cannot speak highly enough of the service and the end result.
The team were superb and the windows are great quality.
My front door, which they adjusted, is like a brand new one and now works so smoothly and we are so grateful for Grant's advice.

Once again thanks for such terrific service and thank the guys for us.

Darren, Henry, and I am embarrassed to say I can't remember the other nice chap's name.
Please can you let Colin know that I am extremely delighted with my new unit and his work
Fantastic service from start to finish, when SureFix came round to give us a quote they weren't pushy, understood our requirements and came back with a price within a few days (we were having quite a bit of work done). Once we had agreed to the work they advised 6/8 weeks lead time but could be longer due to the bad weather we had been having, true to their word it was 6 weeks. The work took 4 days, the team were fantastic, 5 star workmanship, quality doors and windows were installed, along with an amazing skylight. When we called the office to advise they had left some things on site, it was all picked up in a few hours. I would highly recommend, everyone involved was brilliant. We would definitely use SureFix again. Keep up the good work!
The work was carried out speedily and efficiently. The fitters were very cheerful and ensured that they tidied up after themselves on completion. We are very pleased with the end result.
Can not recommend SureFix highly enough! We recently had the back of the house cladded in the most amazing colour! Darren went out of his way to make sure everything was done to perfection, right from the quote (which was not in the slightest pushy, allowing us the take our time to consider whether or not to go ahead) to the finished job. We had a small teething problem, and they were straight round to fix it and make sure we were happy. They even colour matched conduit so the Sky dish cable wouldn't show! We will definitely use them again and have recommended them to all our friends and family. Thank You SureFix 😃
We just wanted to thank you for the work that you did for us last week. At every stage we were kept informed of progress, did not have to wait long for the work to be completed, and every single member of staff who we had contact with was polite and courteous. A very efficiently run company with excellent staff, and Colin, who fitted our window, was the nicest, most helpful man you could wish to meet.
Thank you for a great job done at a very fair price – we couldn't be more pleased
A very positive experience! SureFix replaced loose handles, adjusted hinges for poorly closing windows and replaced pains in "blown" windows. Support from Carole in the office was good throughout, and Colin was a pleasure to work with, from initial survey through completion of the job. Looking forward to slightly lower energy bills this winter as a result. Happy to recommend SureFix.
I also wish to place on record my appreciation for the manner in which the installation was carried out by James and Joe, their cheerful good humour, their professionalism and the quality of the finished article. The fact that the installation took place well ahead of the advised completion date was an added bonus. Please pass on to James and Joe my appreciation for their efforts. Thank you.
Worst weather in 40 years but the team continued regardless!
From start to finish all communications we're spot on.
The team worked in awful conditions and the result is amazing. Definitely recommend.
Thanks to everyone involved.
It's the second time I have used SureFix and I have to say: from the visit of Grant to survey and quote for 5 windows which was received in 24 hours, to the arrival and fitting by 3, they were really polite, professional and hard working guys who did such a brilliant job. Dust sheets literally everywhere, they hoovered afterwards and cleared the site.
The end result is perfect and exceeded my expectations. I just paid the balance (which is not due until you are totally happy with the job). I am happy to highly recommend.